More info
Fancy sitting on a breeze-block couch? A chair made of, er, breeze blocks set in MDF? Artist Sarah Lucas is offering an eponymous furniture range that elegantly, albeit uncomfortably, parodies modern design and spartan chic.
Lucas is not the kind of artist who blandly celebrates the veneer of the new. She's a trasher of the times, a suburban satirist with an eye for the embarrassing.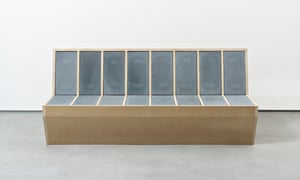 The breeze-block sofa that will turn you into art ... Sarah Lucas's new furniture line. Photograph: Sarah Lucas/Sadie Coles HQ PR
Modernism has always had two kinds of artist: the designers and the melancholiacs. Designers set out to build their vision of some kind of utopia. The architecture of Le Corbusier, interiors by the De Stijl movement and the kind of neo-minimalist house promoted by the TV series Grand Designs share this urge to build a better, because it was newer, world.
A darker tendency in modern art mocks progress and refuses to believe in glossy designer futures. Lucas, one of our best artists, who will represent Britain at next year's Venice Biennale, is very much in this second group. She's a melancholic wit. Her most powerful sculpture, Is Suicide Genetic?, is a burned-out chair with a cigarette-covered motorbike helmet resting on it. This acrid image speaks of gloomy town centres, dead ashtrays, self-destructive teens.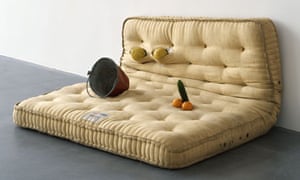 Lucas has long found inspiration in furniture, as in her 2012 sculpture Au Naturel PR
She has often used furniture to comic and absurd effect. Surreally pornographic bodies are splayed on chairs; vegetables turn an old mattress into an image of scabrous heterosexuality; two fried eggs and a kebab are arranged on a table.
Furniture is the plinth of our lives; it turns us into sculpture – although not always very beautiful sculpture. A flopping Brit on a sofa, eating crisps – that's not a work of art, that's you and me, turned into mocking works of art by our own furniture.
Design sells another dream: that a perfect sofa will transform you into a perfect person. You will sit fashionably, watch TV fashionably and eat crisps in a cool way. Modern living in an ideal home is personal training for the soul. Or so we are told.
Sarah Lucas offers a typically brutal travesty of such domestic dreams: be cool, sit on well-framed breeze blocks. It will turn you into art.
The only trouble is, the artwork you will become is a Sarah Lucas sculpture, limbs like stuffed nylon, arranged like a derelict doll. Lucas and her furniture drily expose the stuff we are, in all its horror and comedy.
30 other products in the same category:
New

Regular Price: £216.00

Special Price: £108.00

New

New

New

New